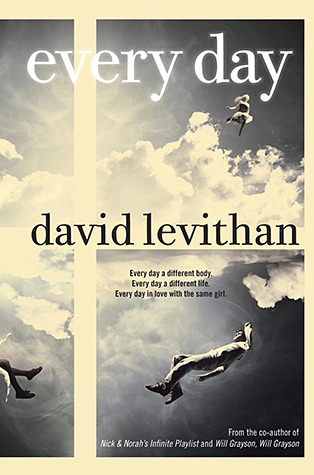 Every Day
by David Levithan
Publication: August 28, 2012
Pages: 304
Author:
Website
|
Facebook
|
Twitter
Publisher:
Alfred A. Knopf BFYR
Buy it:
Amazon
|
Kindle
|
B&N
|
Book Depository
Every day a different body. Every day a different life. Every day in love with the same girl.

Every morning, A wakes in a different person's body, a different person's life. There's never any warning about where it will be or who it will be. A has made peace with that, even established guidelines by which to live: Never get too attached. Avoid being noticed. Do not interfere.

It's all fine until the morning that A wakes up in the body of Justin and meets Justin's girlfriend, Rhiannon. From that moment, the rules by which A has been living no longer apply. Because finally A has found someone he wants to be with—day in, day out, day after day.
* A has an indeterminate gender, being bodiless, but for convenience I will be using the pronoun "he" when referring to A.
Ever since his first awareness, A has been switching lives from day to day and has resolved never to mess with the life he's taken over, never to form attachments, because there isn't any point to it. He'll never live the same life again. Then he meets Rhiannon, and the meaning of his existence changes, for he has met someone that he wants to be with. The futility of such a desire haunts the two of them, as they struggle to find ways to meet with each other again and see that their attraction can overcome the new appearance that A takes on every day.
A has an authentic and captivating voice that captured my heart from the first pages. He is resigned to living every day in a new body, and it is shown in his actions with how quickly he accesses his new host's memories for a general idea of the host's behavior and how acutely he observes the people around his host and divines their relationship from their actions. Upon his meeting with Rhiannon, A learns what it means to be an individual with all its emotions, the good and the bad, and he rises out of his nirvana-like state to attempt to find a place for himself in this world.
I did have one little qualm with this book, and it is how easily and quickly A falls in love with Rhiannon. Within seconds of seeing her, A knows that he is in love with Rhiannon. He also develops a bit of an obsession with her, emailing her and meeting up with her whenever he can, even if it means disrupting the lives of the people he inhabits for a day. While I can see how hard it would be never being able to be himself every day, it's not very respectful of A to use his hosts' bodies like that. Nevertheless, his desperation to find a way to be with Rhiannon is heartfelt, touching, and vividly portrayed. It is also necessary for the story's plot to progress as it does.
Every Day
explores the concept of identity and what it means to love someone, be it learning to recognize someone despite his changing appearances to letting go. This is a story that will tug at your heart and haunt you from the first pages.
Disclaimer: I received an ARC of this book from the publisher. No payment was received in return for a review. The receipt of the book had no influence on the opinions expressed in my review.