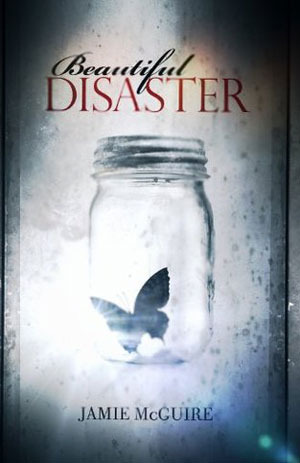 Beautiful Disaster (Beautiful #1)
by Jamie McGuire
Publication: August 14, 2012
Pages: 432
Author:
Website
|
Facebook
|
Twitter
Publisher:
Atria Books
Buy it:
Amazon
|
Kindle
|
B&N
|
Book Depository
The new Abby Abernathy is a good girl. She doesn't drink or swear, and she has the appropriate number of cardigans in her wardrobe. Abby believes she has enough distance from the darkness of her past, but when she arrives at college with her best friend, her path to a new beginning is quickly challenged by Eastern University's Walking One-Night Stand.

Travis Maddox, lean, cut, and covered in tattoos, is exactly what Abby needs—and wants—to avoid. He spends his nights winning money in a floating fight ring, and his days as the ultimate college campus charmer. Intrigued by Abby's resistance to his appeal, Travis tricks her into his daily life with a simple bet. If he loses, he must remain abstinent for a month. If Abby loses, she must live in Travis's apartment for the same amount of time. Either way, Travis has no idea that he has met his match.
This writing is well done and pretty descriptive. It made me want to like this novel, and I did at first. The characters are fairly well-rounded. At least, I felt as though I got to know the central characters in this book, though the supporting characters aren't as dynamic and mostly felt as though they were inserted at strategic points in order to further the plot of the story. Still, I was enjoying the novel for the most part until the characters' did things that I couldn't agree with. After that, I clicked at Kindle and skimmed the pages until the book was finally over, and I could present my honest opinion on the book, able to say that I had read the whole book.
Abby is a smart girl. She goes to Eastern University in order to get away from her past and start a new life for herself. Then she meets Travis, and Abby's best friend America tries to push the two together despite her promise to help keep Abby's past from catching up on her, which annoys Abby though she secretly enjoys the chances to hang out more with Travis. I agreed with Abby's decision to give the smart guy a try, but then she ends up dumping him for Travis. Nevertheless, she is constantly doing things against her better judgment. One could say that she's in love, but is that really an excuse? Where should we draw the line when we say we're doing things for love? If she really loves him, should she stay with him or should she let him go and let him grow and learn from the lesson of why she broke up with him? What finally broke the story for me was when Abby got back together with Travis after all the things he did to her.
Travis can be a sweet guy when he's in love. He calls her by an affectionate nickname (though I wouldn't want to be called Pidgeon... sweet as it is, I'd constantly think about the bird). He does a lot of things for her. Actually, he does so much that he seems obsessed with her--and insecure and untrustful. He's a controlling boyfriend. He told her to change, not approving of the way she dressed for a party, and he doesn't approve of her hanging out with guys he doesn't know and trust. He didn't listen to her advice on a job offer he received, thinking that she'd really be all right with it. (Yeah, she broke up with him because he was going to accept it no matter her opinion on the subject. She came to Eastern to get away from that kind of life.) Then he begged her not to break up with him, telling her that he couldn't live without her. He was dependent on her. While they weren't together, however, he secretly kept guys away from her. So if he can't have her, no one can? Plus the thing he does right before they get back together.... I think that's grounds for a restraining order, if him almost stalking her in the first days after their breakup wasn't enough.
There are people who are going to love this book because a beautiful disaster of a relationship works itself out. However, I just can't like a book where the girl gets back together with the guy in spite of all these things he's done to her. She's only nineteen, and he's not that much older. There is time to sort out what you want in life and what you want in the long run. Abby
had
thought about it, which is also why she'd broken up with him in the first place.
Content: Cussing, violence, blood, sex, gambling.
Rating: Not for me
Disclaimer: I received an ARC of this book from the publisher. No payment was received in return for a review. The receipt of the book had no influence on the opinions expressed in my review.